Shame it had to come to this…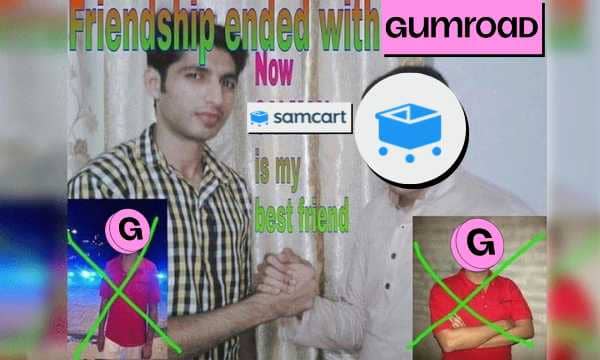 ​
I was a bonafide Gumroad simp.
Out of all the eCommerce tools on the market it was the best value for money.
Easy to use so you can launch products fast
Native integrations with the tools I use like ConvertKit and Circle
Reasonable fees that reduced as you grew
All that's gone now.
You may have heard some of your favourite internet marketers…
Lament Gumroad's new fees.
They take 10% off every transaction.
And that doesn't include credit card processing or PayPal fees.
All-in, you're taking a haircut of close to 15%.
In my case, my payment processing fees tripled after the rate hike.
But I'm a small-timer on the platform.
There are vendors doing 6 figures a month on Gumroad.
That means, for every $100,000 they make…
They pay $10,000 to Gumroad…
Plus another $3000-$5000 in card processing/PayPal fees.
To put that in perspective…
Here are the highest-tier subscriptions for a few of Gumroad's competitors
ClickFunnels is $297/month
SamCart is $299/month
Thrivecart is $690 lifetime
And the Gumroad power-users aren't taking it lying down.
AJAC has already switched to ThriveCart.
I'm guessing he does $30k-$50k per month in revenue on the low end.
Old Gumroad's cut was 3%.
Which means…
AJAC leaving lost them $900-$1500 per month.
And that's just one example.
All of Money Twitter is, or was, on Gumroad.
Sure, a few will stay, but most will leave.
What I'm Using Instead of Gumroad
Internet marketers, particularly the advanced ones, used to clown Gumroad but I always defended them.
I felt its lack of features were balanced out by its easy of use and cost.
But I can never again, in good conscience, recommend them.
For the CopySkills™ membership I'm using Circle's native payment processing
For my other products and consulting I'll be using a combination of Samcart & Stripe
When I launch the subscription for MuslimMan™ it'll be on BeeHiiv's native payment processing
While in the process of migrating for the time being you can still find my digital products on Gumroad.
>>> 40 Hadith on Masculinity for example 👉​
Talk soon,
Nabeel