Would you like to make $10,000+ per customer instead of $100?
Without selling $10,000+ products/services.
I got this email from Ramit Sethi today.
Guess they're switching course platforms.
​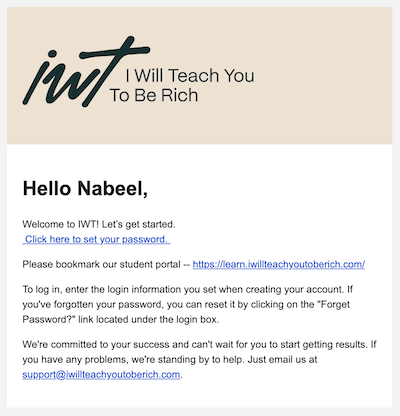 Over 10k from one customer.
While not a recent customer, over the years I've bought 8 of his courses and paid him over $10,000.
His courses are priced from $197 to $10k (I never bought the 10k course.)
​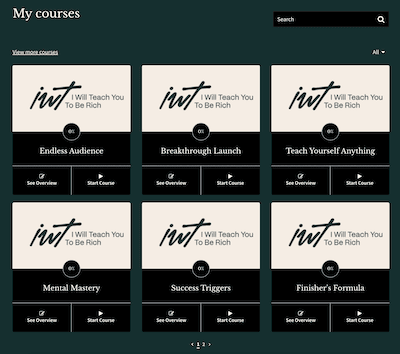 My IWT course dashboard
And I'm one customer.
He has thousands.
Many of whom bought every course in his catalog, spending well over 20k.
And I don't believe we're outliers.
That's the power of building a relationship through an email list (supported by social selling, short- and long-form content.)
This is something we do for our clients.
And while I can't claim all the credit…
Since we're only one part – copy & creative – of a marketing department…
We conservatively helped Mike Mark produce about $5-7 million over the 3 years we worked together.
​
​
Joel Erway's take-home income was close to $600,000… during the pandemic… after his ads stopped working… and we only worked together for 9 months.
​
​
For William Brown we booked 900 sales calls over 7 months.
​
​
We produced over $300,000 in 3 months for Jay Campbell & Nick Andrews.
​
​
And we turned Frank Kern into Kyle Sulerud's reply-guy.
​
​
This is what we do.
And we're world class.
We can do the same for you, if you want.
>>> Book a 15-minute discovery call 👉​
Note: We offer premium services at premium rates. We don't work with brokies and we only work with people we like.
Sincerely,
Nabeel
P.S. If you aren't a business owner and this email wasn't relevant to you, update your subscription here. For bonus points, reply to this email and tell me what you want to see more of.