Saw this on Twitter today.
A Mexican handyman left a hand-written (or what appears to be hand-written) sales letter on this entrepreneur's doorstep.
I'll briefly mention what makes this an almost perfect ad for his business.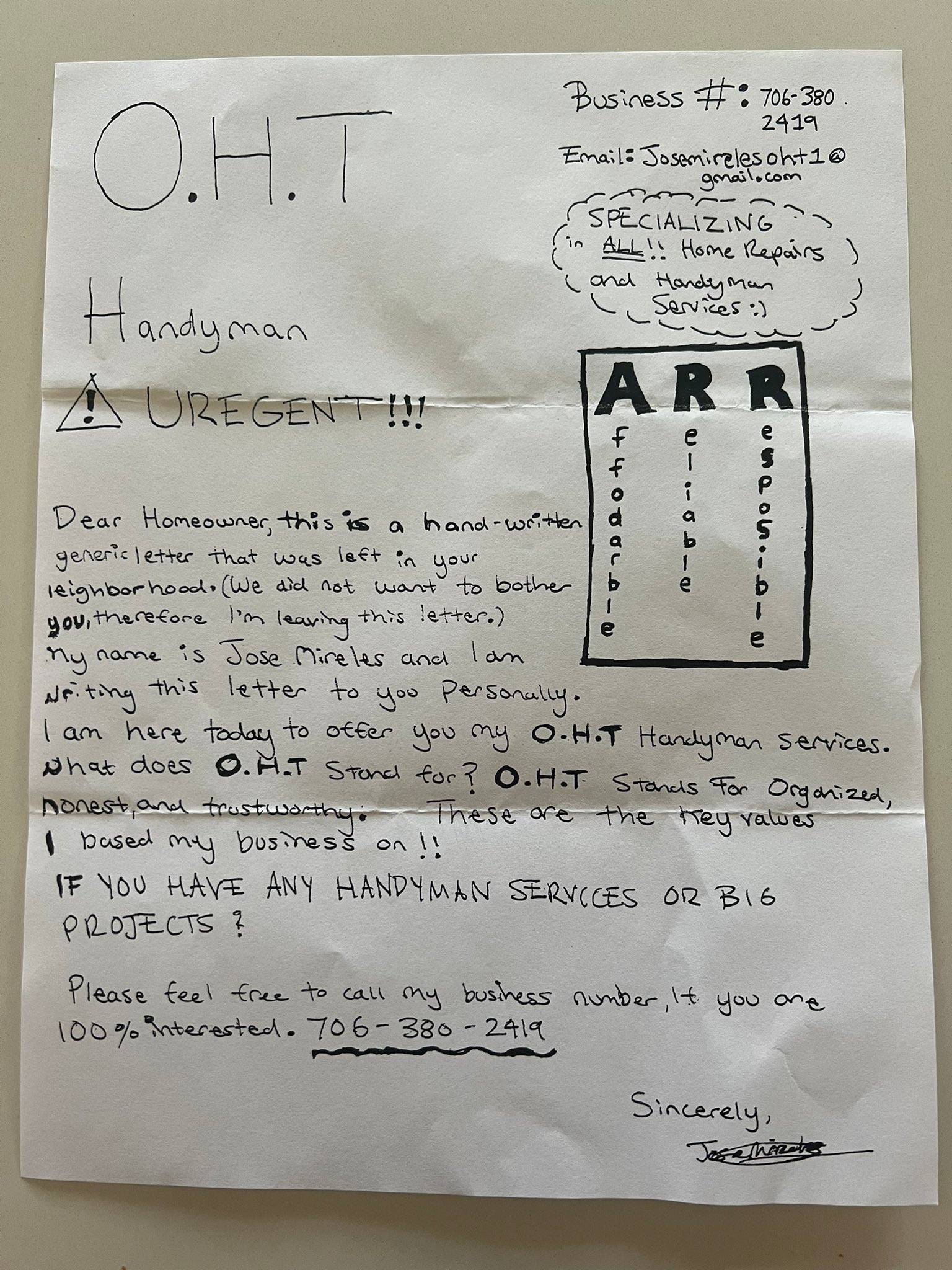 For a hi resolution photo of this letter, see the postscript
Here's what makes the letter special:
Handwritten. Personal correspondence. Doesn't look like junk mail.
Clear headline with curiosity, benefit and urgency
Empathy. "We did not want to bother you…" and "I'm writing this letter to you personally."
Simple english. No jargon. Clear offer.
Unique mechanism. OHT (what's OHT? You have to read to find out.)
Answers common objections via unique mechanism and artwork.
One clear call to action.
There are machines that write "hand-written" letters.
Fascinating contraptions.
Price per letter varies depending on how many you want to send.
I don't believe this letter is one of those.
It's messy.
There are mistakes that have been written over.
In fact, if it was machine-written and they designed it this way, they're geniuses.
In any case, I wish more copywriters wrote like this.
But they're too busy "copywriting" to make the sale.
Oh, I forgot to mention the most powerful "sales tactic" used in this letter.
Sincerity.
– Nabeel
P.S. If you want to write as well as Jose the handyman, join CopySkills™.
P.P.S. If you own a local business and want me to write you a letter like this for a direct mail campaign, book a call.
P.P.P.S. Here's the high resolution photo of this letter.