If the following names mean nothing to you, you aren't the intended reader for this email.
Stop reading and go do something else.
​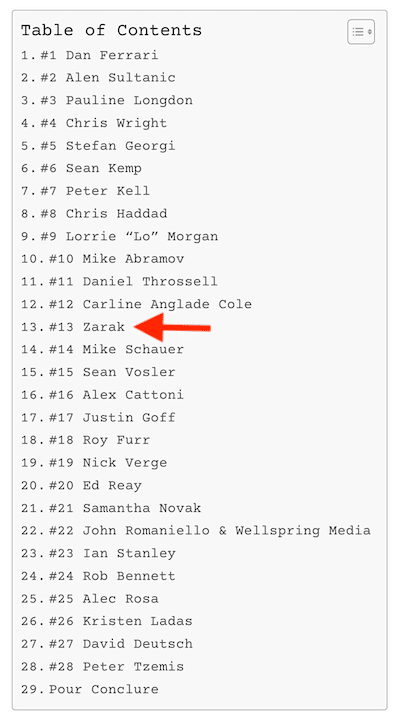 Why the red arrow? Keep reading to find out
​
Every year, direct response marketer Peter Tzemis puts out a list of the best copywriters to follow.
His list is the subject of much controversy but it's a genius marketing tool.
Here's why:
Stroking the egos of influencers in any industry is an easy way to get them to share your content
A list, even an unordered one, will create controversy about who's on the list and the order of appearance
The simple act of mentioning their names in a piece of content allows you to borrow their authority by proximity; Tzemis goes as far as including himself as the last entry every year
Every successful copywriter reading this list will get fired up; why am I not on this list?
By celebrating and promoting others in your industry, you create goodwill; the guy who organizes and hosts a party has innate social status
What I take away from this article:
I'm going to be on Peter's list in 2024
I'm going to publish my own yearly list
Anyway, that's enough of a marketing lesson for today.
Who TF is Zarak?
I was at dinner with Anvar Jabirov and Ammar Sultan, two agency owners in the eCommerce space.
We were talking about all the marketers who've moved to Dubai recently.
Zarak's name came up.
This was the first time I'd heard of him.
So I looked him up on Twitter and followed him.
And a few weeks later, Tzemis' article comes out.
Turns out this guy Zarak's been behind the scenes printing $$$.
At 18 years old Zarak tripled Activation Health's email revenue.
And his agency Mailer Profit manages the email lists of a bunch of direct response supplement brands.
And he also has his own email list you gotta pay to subscribe to – excellent strategy and I might do this myself.
Recently, Zarak's been launching his own offers, which he promotes exclusively to his email subscribers.
You may remember the AI Copywriting Accelerator I promoted last month – the one where I negotiated a 50% discount for you in lieu of an affiliate commission – that was Zarak.
And He's Back With a New Offer
A couple of days ago he DMs me asking to promote his new offer launching on Monday.
The last promo I ran for him was successful, so of course I said yes.
No 50% discount this time though.
And I'm not passing on the commission either.
You had your shot.
If you didn't take it, that's on you.
So about this new offer.
I'm not going to say anything about it now but I'll give you a hint.
If I had to summarize the value of this product in less than 3 words, it'd be:
Staying Power
If you want staying power as a copywriter, marketer or business owner over the next two decades, this product is how you do it.
I'll be sharing all the deets starting on Monday.
The promotion will run for 5 days and end at midnight on Fri/Sat.
And I'll be emailing every day – maybe even twice a day.
But in every email I'll give you the option to opt-out of the promotion.
For example, if you don't care about developing staying power in your business and industry, click here and you won't receive any emails about Zarak's offer next week.
This won't remove you from my email list.
But even if you don't care about staying power, I wouldn't click that stop-promo link.
Many of my subscribers read every single email in a promo I write, even if they don't want to buy, just to watch me work.
With that said, let me know you're excited about this announcement by replying with a "💥💥💥" – 3 boom emojis if your phone doesn't display them for some reason.
You reply will also give me an indication of how many of my subscribers read until the end.
See you on Monday.
Sincerely,
Nabeel